Southeastern Underdeck is proud to offer the widest range of options and accessories for your underdeck needs—and we have thought of everything!!
One of the finer details that our system allows you to choose is which type of trim you want on your underdeck. We offer a sleek, low-profile flat trim, or an elegant, fancier crown-molding option. Let's explore those together.
Flat Trim
Every underdeck will have gutter on the farthest edge of the deck, but many of out customers simply want a dry space to hang out, without getting too ornate. The flat trim is the perfect option. It is part of our standard underdeck kit, and consists of a 2-inch piece of aluminum trim (in any color we offer) that is flush with the surface of the panel. Flat trim is slim and sleek, draws less attention to itself and is great with modern design aesthetics.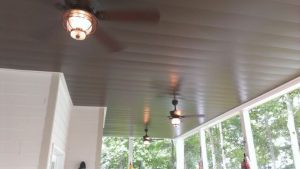 Another consideration is that it saves height around the perimeter of the deck. For example, if you have windows on your house that come high to the frame of the deck, flat trim will fit in nicely without risking instrusion on the window frame.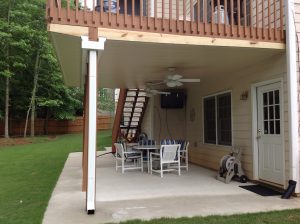 Crown Trim
The other option is to upgrade from flat trim to our crown molding effect. This is accomplished by using the same gutter material from our functioning edge, and running it around the entire perimeter, mitering it in the corners. Note that the crown trim does not change the function or direction of the system—it simply dresses up the design. This achieves a more ornate look and is a common choice on more traditionally designed homes, or decks with a lot of detailed trim work.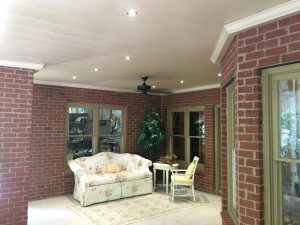 Crown trim does mean that the perimeter of the underdeck ceiling will be a little lower, so if the height of the deck is a concern of yours, take that into consideration.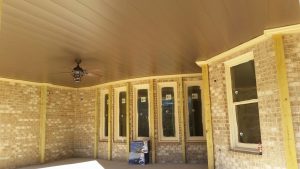 So which one should I get?
Ultimately, your personal taste and budget will dictate your decision. For those with smaller decks or decks with more rectangular shapes, flat trim keeps the design simple. For those with larger decks or more complex footprints, crown trim can help tie everything together. You may also consider what other design elements exist in the rest of your home and what underdeck trim option is best to carry that aesthetic into your outdoor space.
Call us today or speak with your sales rep about these and other considerations, as well as pricing. We can't wait to turn your underdeck dream into a reality!