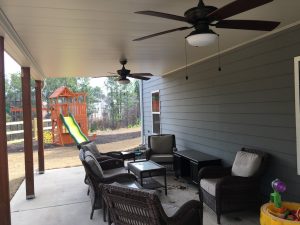 The most common accessories that we add in our underdeck projects are fan mounts. As you well know, Summers in the South are brutal, and often the air just does not move in covered areas like under your deck. Fans help solve this problem.
Another reason fan mounts are a great addition is that on some projects, the deck may not provide adequate ceiling space to add lights; lights installed too close to fans can create headache-inducing strobing. Installing a fan with a light kit will cover both of these needs. 
SEUD uses fan boxes which are rated for outdoor use in wet location. We block the mounts into the joists and run the box through our ceiling panels, sealed with silicone on the inside to prevent leaking. In many cases, our experienced crews can even prep the electrical work for the fans, and we are happy to discuss any specific needs or requests you might have in arranging or prepping for your fan locations.
It is important when shopping for your ceiling fan to find one that is outdoor rated. Even though the underdeck will prevent the fan's components from getting rained on, the humidity in the Southeast can cause indoor rated fan blades to droop over time. With the wide array of fan styles on the market, we do not carry any fans in our line, but depending on where you live and what your needs are, our sales staff can point you to the best vendors and give you insight onto the best number and size of fans for your project.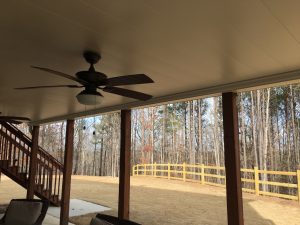 Fan mounts are one of the most versatile considerations to your outdoor living area. If you already have fans in place, we can remount them into the system. If you are only just beginning to dream about your outdoor living area, the location and number of fans is a great way to jumpstart your imagination and find the best way to layout your new outdoor haven. 
Give us a call today to get started, we'd love to speak with you and get your outdoor dream project started, or help tie the knot in the thread to call it finished. Until then, take care. We'll see you outside!!